VISN 17 CENTER OF EXCELLENCE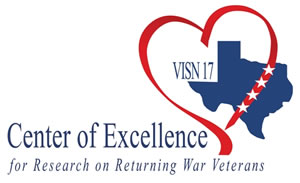 The VISN 17 Center of Excellence (COE) for Research on Returning War Veterans is a unified, transdisciplinary scientific and administrative center designed to foster state-of-the-art, broad spectrum inquiry into the mental health sequelae of combat exposure. Established by Congress in 2006, the COE focuses on improving the knowledge of the prevention, rehabilitation, and treatment of Veterans returning from Operations Enduring Freedom, Iraqi Freedom, and New Dawn (OEF/OIF/OND). Central Texas has one of the highest concentrations of returning Veterans in the country, with a current total of over 30,000 unique OEF/OIF/OND veterans registered in the system.
Located on the historic campus of the Waco VA Medical Center, the COE enjoys a mutually beneficial relationship with the Central Texas Veterans Health Care System and many VISN 17 scientist-practitioners, as well as select faculty from Texas A&M Health Science Center, the University of Texas, and Baylor University. In addition, the COE has ongoing collaborations with the Department of Defense, Boston University, Brown University, Dartmouth University, George Washington University, Harvard University, Indiana University, University of Illinois at Chicago, University of Maryland, University of Pennsylvania, and a host of other academic, healthcare, federal, state and local entities.
With these combined resources, the VISN 17 COE is poised to track emerging trends in post-deployment response to foster the best possible trans-disciplinary team to train new generations of scientists-practitioners, and to guide the Veterans Health Administration regarding evidence based practice.