Attention A T users. To access the menus on this page please perform the following steps. 1. Please switch auto forms mode to off. 2. Hit enter to expand a main menu option (Health, Benefits, etc). 3. To enter and activate the submenu links, hit the down arrow. You will now be able to tab or arrow up or down through the submenu options to access/activate the submenu links.

Featured Article - Facing Down PTSD, Vet is Now Soaring High
Facing Down PTSD, Vet is Now Soaring High

Posted February 1, 2010
"I'm free."
When Steven Kraus says that, you can hear it in his voice. He means it. He is free from 40 years of dealing with Posttraumatic Stress Disorder (PTSD). The 62 year old Vietnam Veteran could not even fly a year ago, the claustrophobia and panic attacks were just too much.
Today, he is taking flying lessons. He also took a commercial flight to Cincinnati in November to help his father celebrate his 89th birthday. "I couldn't let him down. We were in Vietnam together."
Although he had sought professional help numerous times over the past few decades, the dramatic change in Steven's attitude and ability is due, in part, to the treatment he received through the Veterans Health Administration known as Prolonged Exposure Therapy.
Patients Learn to Tolerate Anxiety
Dr. Matthew Yoder of the Ralph H. Johnson VA Medical Center in Charleston, SC, explains the therapy which he and Steven employed to help him deal with the painful memories which caused him such stress: "Prolonged Exposure is a cutting-edge, evidence-based treatment for PTSD in which patients face their trauma-related fears. Most often, in survivors who develop PTSD, those fears are related to memories and situational triggers that remind them of the trauma.
"This treatment works with survivors who begin "approaching" and learning to tolerate, or get used to, the anxiety associated with the memories and situations, rather than avoiding them. Once a person stops avoiding their anxiety, it typically decreases significantly, often to "normal" or pre-trauma levels.
"The primary ways of exposing survivors to their trauma-related anxiety are through talking about the traumatic event, and through intentionally approaching real-life situations that are safe but continue to make them feel nervous. The more they do these things, the easier the memories and anxiety become."
Listening to Memories Key to Treatment
After Dr. Yoder had Steven record his recollections from his tours in Vietnam, and then instructed him to listen to the tape, Steven remembers thinking, "I can't do this."
When the doctor insisted, Steven listened. It was not easy. Then he listened again. Better. Then, he listened again and thought, "Hey, I can handle this." It was a lot to handle. Steven has two Purple Hearts from his duty in Vietnam. He was in combat where hundreds of soldiers were killed. The baggage he brought home from those experiences led him to alcohol, drugs, depression, anxiety attacks and "thinking I was going to spend all my life in and out of hospitals."
Dr. Yoder explains that PTSD starts with a traumatic event in which a person feels their, or someone else's, life is threatened, and that involves intense horror, terror or helplessness. After such events, it is normal for survivors to have intrusive thoughts about the event and to have increased nervousness about things related to the event.
According to Dr. Yoder, "For some, however, these symptoms remain for longer than one month, and the person attempts to avoid the memories and other triggers of anxiety. In these cases, the survivor develops PTSD. Attempts to avoid thinking or talking about the event, sometimes through drugs, alcohol, or over-working, keep the memory of the event from being processed and stored in the brain like other memories.
"The memory and triggers stay active, despite attempts to avoid, and the person remains anxious in ways they were not before the traumatic event happened. This anxiety is debilitating, often getting in the way of living a healthy, productive life."
Steven's Boss Knew He Needed Help
Steven notes that "I never heard of PTSD back then, after I left Vietnam. I just knew I had problems and I needed help."
The boss on his construction job knew that too and told him to go the Veterans Health Administration. Several three-month stints at the Coatesville VA Medical Center in Pennsylvania, with programs focused on mental health programs, helped for a while.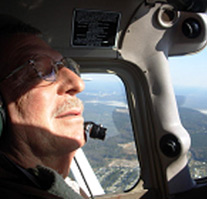 "It took me a little time to really get involved with their treatment. I've always had a problem with trust, "Steven admits.
The events of 9/11 brought a lot of things back for Steven and after he retired, his symptoms got worse.
That's when he met Dr. Yoder, who describes his treatment of Steven: "When I met Steven, he had severe levels of PTSD symptoms. He was having weekly panic attacks, primarily while driving. Memories from Vietnam came back to him on a daily basis, causing him intense anxiety and anger. He was not sleeping well, mostly due to intense nightmares about his Vietnam experience.
"He was using alcohol heavily in an attempt to avoid his anxiety and panic attacks. Because driving was so difficult for him, he had started isolating himself from friends and family and could not be around crowds."
Treatment Sessions via Computer Cameras
In Steven's case, because he lives in Savannah, GA, and because there is no one trained in Prolonged Exposure Therapy at the outpatient VA clinic where he receives the majority of his health care, he was offered specialized treatment via a relatively new technology - telemedicine video therapy.
Steven, who uses social media, easily adapted to this contemporary style of treatment. He and Dr. Yoder hook up via computers and cameras and hold sessions miles apart.
"After a while, it's just like being in the same room. I think Dr. Yoder is wonderful. I trust him," Steven adds.
When asked how he feels about telling his story to a large audience: "It's part of my treatment. Dealing with it. And it's my duty to help those other Vets out there."
What would he say to other Veterans with similar symptoms?
"You have to get past 'why me?' I know what they think: 'I'm the only one with this. I can't get help. I'm ashamed to admit it.' Well, the VA doctors are the best in the world. There is help out there."
Editors Note: Get help and learn more about what VA is doing to help Veterans with PTSD.
return to top