Partners and Families of Veterans
A substantial portion of Veterans who served in recent operations in Iraq and Afghanistan are older, married (over 50%), and have children. Involving partners and families in treatment is related to improved treatment outcome for many psychological conditions and is a national priority for Veteran mental health services (VHA Directive 2006-041).
Overview
Deployments can be challenging to families and partners of Service members in a number of ways. These challenges can include loss of income and childcare and changes to family roles while the Service member is deployed. Partners of Service members have reported deployment related loneliness, anxiety, and depression, and children demonstrate more behavioral problems during their parents' deployment.1
Following deployment, most military families will adjust successfully and their children will be healthy and resilient.2 However, during behavioral health evaluations of newly returned Veterans, family issues are commonly reported (78%)3. Veterans with PTSD or depression are even more likely to endorse family readjustment issues.
Parents or siblings of Service members are impacted by the deployment of their child/brother/sister, however, information on the ways in which these family members are impacted is limited.
1 Steelfisher, Zaslavsky, & Blendon, 2008 in Makin-Byrd et al., 2011; 2 McFarlane, 2009; 3 Sayers, Farrow, Ross, & Oslin, 2009
Video
Taking the first step to improve relationships
The experiences of military life can affect Veterans in ways that may impact their relationships. Watch Veterans talk about working through problems with their friends and loved ones and finding solutions that benefit everyone. Watch more related videos at Make the Connection
Video source: Make the Connection: Family and Relationships

Educational Materials and Programs
Educational materials and programs can provide family members with the information necessary to support the Veteran's recovery and to effectively partner with their treatment providers.
The educational topics below include information about:
Reintegration following deployment

Parenting for Service members and Veterans

Programs to support family members of Veterans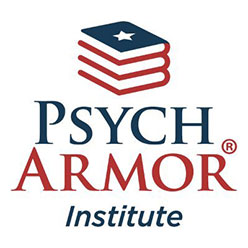 PsychArmor is a national non-profit organization dedicated to bridging the military-civilian divide through free online education. The only organization of its kind, PsychArmor also provides a Support Center staffed with mental health experts to provide coaching and follow-up to its learners. Their self-paced courses provide critical resources to all Americans who work with, live with, and care about Veterans.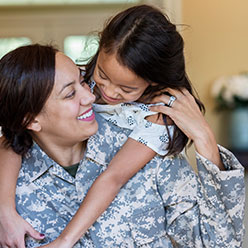 This program is an 18 session workshop for adults who care about someone living with a mental illness (including PTSD). Goals of the program include providing opportunities for family members to learn about the symptoms and course of mental illness/PTSD, ask questions and discuss concerns, and receive support from other family members in similar situations. This program mainly covers four areas: 1) Information about various conditions such as PTSD, 2) Skills for family members, 3) The experience of caring about someone living with a mental illness, and 4) Dealing with family, friends and professionals including coping with the stigma surrounding mental illness. It was developed by Dr. Michelle Sherman at the Oklahoma VA/VISN 16 Mental Illness Research, Education, and Clinical Center (MIRECC). This program may be available at some but not all VA Medical Centers. Contact your local VA medical center to determine availability.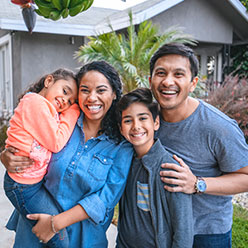 This is a 5-session family education and support program for Veterans who have served in Operations Enduring and Iraqi Freedom (OEF/OIF) and Operation New Dawn (OND) and their family members developed by Dr. Michelle Sherman at the Oklahoma VA/VISN 16 MIRECC. The purpose of this program is to help the returning Service member/Veteran adjust to family life and to help family members cope with the significant stressors of deployment and reintegration. Session topics include family relationships, communication and intimacy, anger, Posttraumatic Stress Disorder, and depression. This program may be available at some but not all VA Medical Centers. Contact your local VA medical center to determine availability.

VHA Healthcare Services
All VA family services are consistent with a recovery philosophy and provide a continuum of services including:
Prevention/family resiliency training

Family education/training

Marriage and family counseling
Family and Couples Services at VA Medical Centers and Clinics Include:
Family consultation and family education for Veterans with serious mental illness are provided at VA Medical Centers and certain community-based outpatient clinics.

Opportunities for these family services must be available to all Veterans with serious mental illness either at VA medical centers, by telemental health, or with community providers through sharing arrangements, contracting, or non-VA fee basis care.

Providing evidence-based family and couples treatments is a priority within VA mental health services. Treatments provided may include Integrative Behavioral Couples Therapy (IBCT), Behavioral Couples Therapy for Substance Abuse Disorders (BCT), and Behavioral Family Therapy (BFT) for Serious Psychiatric Disorders. Contact mental health services at your local VA Medical Center or clinic to learn more about what treatments are offered.

Discussion of family involvement with the Veteran at least yearly and at inpatient discharge.
Family Member, Couple or Caregiver: Eligibility for VHA Mental Health Services:
Available VA services for immediate family members and caregivers include training/education, consultation, and marriage and family counseling as is necessary in connection with treatment. These services are available to the individuals listed below.
Members of immediate family or legal guardian of a Veteran.

Family caregiver of an eligible Veteran or a caregiver of a covered Veteran (see PL 111-163 for definition of these terms).

Individual in whose household an eligible Veteran intends to live.
Connect to Services at Your Local VA Medical Center or Vet Center:
VA Program Locator: The program locator can help you find your local VA Medical Center.

Vet Center: Eligible Veterans can also find counseling services, support and resources at Readjustment Counseling Centers. To learn more about the services provided at these centers please see their website.

Caregiver Program: VA's Program of Comprehensive Assistance for Family Caregivers has many resources and support services for family caregivers. Visit the site to learn more and check your eligibility.
Online VHA Mental Health Resources Available to Families and Couples